20+ Things to Do with Kids in the Boston Area for April Vacation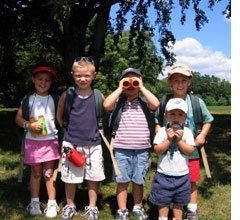 Looking for fun things to do with kids during April vacation week? There are plenty of programs and special events for families going on in Boston - puppet shows, dance and theater performances, special museum happenings, one-day events, and nature programs.
Read on to see highlights of some of the many wonderful things to do during spring break with kids, and be sure to visit our calendar of events, our Patriots Day and Earth Day roundups for even more ideas.
---
SHOWS, PERFORMANCES & SPECIAL EVENTS
---
Boston Marathon - Hopkinton to Boston
Mon 4/21
FREE to watch
The Boston Marathon is the world's oldest annual marathon and is one of the world's most prestigious road races. Spectators can cheer the runners on throughout the course.
The historic course starts on Main Street in the rural New England town of Hopkinton and runs through Ashland, Framingham, Natick, Wellesley, where Route 135 joins Route 16. It continues along Route 16 through Newton Lower Falls, the Newton Hills, Chestnut Hill to Cleveland Circle, through Kenmore Square, and under Massachusetts Avenue. The course finishes near the John Hancock Tower in Copley Square.
Optimal viewing locations are listed on the website, as well as a course map and viewer information.
---
Gould and Stearns - Fee, Fie, Fo, Fun! - John F Kennedy Presidential Library and Museum, Boston
Tue 4/22
FREE; reservations required
The comedy duo from Vermont returns with a participatory performance combining clever dialogue, slapstick, mime, and song in this retelling of Jack and the Beanstalk.
Reservations required; call or register via the website.
---
Where the Mountain Meets the Moon - Wheelock Family Theatre, Boston
Tue 4/22 - Fri 425
Tickets $20-$35
Wheelock Family Theatre presents the East Coast premiere of Grace Lin's Newbery honored novel. Inspired by her father's stories, a young heroine sets off on an extraordinary journey to change her family's fortune. Along the way, she encounters magical creatures, including a dragon that accompanies her on her quest, and finds her questions answered in unexpected ways.
---
Vacation Week Performances - Puppet Showplace Theatre, Brookline
Tue 4/22 - Sun 4/27
Tickets $12
Puppet Showplace Theatre offers two shows during April vacation. Performances are at 10:30am and 1pm.
---
MUSEUM PROGRAMS
---
April Vacation Week Activities - Old State House, Boston
Tue 4/21 - Fri 4/25
Free with admission
Drop in to the Old State House Museum and take part in one of the family-friendly, hands-on historical activities:
Monday: 18th-Century Portraits
Tuesday: Experience Revolutionary Characters™ Live!
Wednesday: Art of the Quill
Thursday: Experience Revolutionary Characters™ Live!
Friday: 18th-Century Portraits
---
Vacation Week Programs - Paul Revere House, Boston
Sat 4/19 - Sat 4/26
Fees vary
The Paul Revere House commemorates the anniversary of Paul Revere's ride with special events throughout the week:
Saturday (4/19): Patriot Fife and Drum - a lively concert of music from the colonial times. 1pm-3pm
Tuesday, Thursday, Saturday (4/26): Paul Revere Walking Tour - a self-guided tour of North End sites related to Paul Revere. Reservations required. 2pm-3pm
Wednesday and Friday: Midnight Ride Storytelling Program - find out what really happened on Paul Revere's ride. Reservations required. 10:30am-12n
---
Close Encounter of a Wild Kind - April Vacation Activities - Ecotarium, Worcester
Tue 4/22 - Fri 4/25
Free with admission
Stalk! Track! Catch! Kids get up close to nature with hands-on activities that get them outdoors and exploring the EcoTarium's ponds, meadows, and woods.  Learn about vernal pools and discover who lives in them, collect samples of cool pond and insect life, investigate the secret lives of wildlife through camera traps and tracking, and see what tools you'll need to become a naturalist on your own.
---
Contemporary Art Trek: April Vacation Week - ICA, Boston
Tue 4/22 - Thu 4/24
Free with adult admission; Children 17 & under always free
Visit a mural by artist Matthew Ritchie near South Station, watch the accompanying video on your portable device, then come to the ICA to see more contemporary art. Share your thoughts and questions with artists in our galleries and take part in related 2D and 3D art-making activities in the Bank of America Art Lab.
---
Vacation Week Adventures - MFA - Museum of Fine Arts, Boston
Tue-Fri 4/22 - 4/25
Free with admission
Familes can join in on an adventure in color. Listen to stories, watch music and dance inspired by color, take a family tour, or make artwork inspired by the objects and colors that you see.
Late night Wednesday, open until 8pm.
---
Growing Our Community - April Vacation Activities - Boston Children's Museum
Mon 4/21 - Fri 4/25
Free with admission
Museum activities and performances celebrate the diversity of our community and the world around us.  Explore our differences, find common ground, make new friends, build trust and more through activities that improve ourselves and our environment!  Plant seeds, make art, and learn new songs.
---
April Vacation Activities - Mary Baker Eddy Library, Boston
Mon-Thu 4/21-4/24
Children 17 & under free        
The Library focuses on participatory poetry activities as a means to inspire hope for our city's healing. Visitors are invited to learn more about Mary Baker Eddy and her love of poetry. Activities include DIY suncatchers, acrostic poetry, random word poetry, and illustrating a written poem. 
Tours of the Mapparium® and admission to the Library are free for visitors ages 17 and under.
Poetry Workshops for Youth (but open to all ages) with Regie Gibson take place on Tuesday and Thursday at 2pm.
---
April Vacation - Wenham Museum
Mon 4/21-Sun 4/27
Most activities included with admission
The museum is open all week (even Monday) and in addition to regular exhibits hosts several special events:
Community Art Pop-Up Studio (Tue-Fri): Kids can join in on the fun with several community art projects: Caps of Color Mural, Poetry Month Matters, and 3D Fantasia. Included with admission.
Which Way Does the Wind Blow? (Thu, 10:30am): In the story of Mary Poppins, this magical nanny blows in on the East wind to help the Banks family. Work with recycled materials to create your own wind vane to measure a change in the weather and to see if Mary Poppins is coming to visit you! This is a STEM program to help children explore the wonder of the wind. Ages 3+; included with admission.
Silhouette Artist Carol Lebeaux (Fri-Sun): New England Silhouette Artist Carol Lebeaux creates hand–cut heirloom portraits done from a sitting or photograph. Reserve your 10-minute appointment by phone or online. $33 per silhouette, $12 for a copy, $5 matting.
---
NATURE PROGRAMS AND OUTDOORS
---
PUDDLESTOMPER April Vacation Programs - Two locations: Wellesley & Newton
Tue 4/22 - Fri 4/25
$60/day 10% Sibling Discount        
Children discover the signs of spring PUDDLESTOMPERS' April Vacation drop-off program. The turn over logs in search of creepy crawlies, discover worms and other exciting life in the soil, learn how plants grow, and look for rainbows after April showers. Children learn about the day's topic through hands-on investigation, active movement and play, crafts, stories, and songs. A snack will be provided each day, as well as a take-home craft and handout with additional activities and information to extend learning and exploration into your home.
Sign up for one or several days.
---
April School Vacation Week - Franklin Park Zoo, Boston
Mon 4/21 - Sun 4/27
Free with admission
Throughout April school vacation week, connect with incredible wildlife and spend a memorable day with family and friends exploring Franklin Park Zoo. Here's some of what's in store:
Aussie Aviary opens for the season
6D Rhino Rescue
Ape Drawing Project (4/21)
Meet Nick Jr.'s Pocoyo™ ! (4/25 & 4/26)
and don't miss Party for the Planet on 4/27.
---
April School Vacation Week: Carnivore Explore at Stone Zoo! - Stone Zoo, Stoneham
Mon 4/21 - Fri 4/25
Free with admission
Visit Stone Zoo during April school vacation week and learn more about all of the incredible carnivores that call the zoo home. From snow leopards, jaguars, cougars and Mexican gray wolves to the arctic foxes, lynxes, bald eagles and many others, visitors can discover all of these animals' amazing adaptations. Zookeeper encounters, craft activities and a scavenger hunt take place throughout the week. At the daily zookeeper encounters, visitors will have the opportunity to meet with the zookeepers and ask questions about the animals.
---
April Vacation Adventure Days - Ipswich River Wildlife Sanctuary, Topsfield
Tue 4/22 - Fri 4/25
$58/day; $1742 for four days        
This vacation week program gives children in grades K-5 the opportunity to explore the natural world through outdoor adventures, small group activities, and nature crafts. Children discover spring birds and bugs, look for beavers in the pond, search for frogs, salamanders, and turtles, celebrate Earth Day with some special activities, and enjoy fun, creative activities as they develop observation and discovery skills. Participants are divided into small groups by age. Sign up for all four days or individual days; advance registration required. Daily themes:
Tuesday, April 22: Marvelous Mammals
Wednesday, April 23: Wonderful Wings
Thursday, April 24: Splash, Splash
Friday, April 25: Digging in the Dirt
---
Fairy Garden Days - Roger Williams Park Botanical Center, Providence
4/18 - 4/27
Adults $3; Children (6-12) $1, (under 6) free
Fairy Gardens are set up in the Botanical Center during April vacation week. Visitors can take a magical journey in the warmth of the Roger Williams Park Botanical Center to find the hidden fairy gardens. Leave the door open to your imagination and come and be a part of this whimsical experience.
The week culminates in the Fairy Garden Days Festival on Sunday, from 11am-2pm. Make a Fairy House, Scavenger Hunt & Storytime.
---
Originally published April 2013; updated April 2014