Top Things to Do with Boston Kids for April Vacation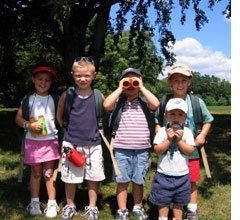 Looking for fun things to do with kids during April vacation week? There are plenty of programs and special events to keep the whole family entertained, including big annual events like the Cambridge Science Festival, performances, cool museum happenings, and nature programs. Plus, there are FREE drop-off workshops and programs for Boston city kids!
Read on to see highlights of the many wonderful things to do during spring break with kids, and be sure to check out our Event Calendar and our Patriots' Day and Earth Day roundups for even more ideas. 
---
SHOWS, PERFORMANCES & SPECIAL EVENTS
---
Boston Marathon - Hopkinton to Boston
Mon 4/20/15
FREE to watch
The Boston Marathon is the world's oldest annual marathon and is one of the world's most prestigious road races. Spectators can cheer the runners on throughout the course.
---
Shrek The Musical - Wheelock Family Theatre, Boston
Opens Fri 4/17/15
Tickets $20-$35
Based on the irreverent picture book by William Steig and the award-winning animated film by DreamWorks, this singing, dancing extravaganza explores the relative nature of beauty, the beguiling myth of "happily-ever-after" and the importance of accepting others for who they really are.
---
Cambridge Science Festival - Cambridge
Fri 4/17/15 - Sun 4/26/15
Most events free
The Cambridge Science Festival is a celebration showcasing the leading edge in science, technology, engineering and math. A multifaceted, multicultural event every spring, the Cambridge Science Festival makes science accessible, interactive and fun. There are more than 150 events taking place at multiple locations. Festival highlights for families include the Robot Zoo and Science Carnival at the Cambridge Public Library (4/18) and Rocket Day at Danehy Park (4/25).
---
MUSEUM PROGRAMS
---
April Vacation Week Activities - Old State House, Boston
Tue 4/20/15 - Fri 4/24/15
Free with admission
Drop in to the Old State House Museum and take part in one of the family-friendly, hands-on historical activities with a different theme each day. Activities include scavenger hunts, creating portraits, tavern games, making a coat of arms, and playing a medical card game.
---
April Vacation Week Programs at the Paul Revere House, Boston
Tues 4/21/15 - Sat 4/25/15
Some activities included with admission; others $4.50
The Paul Revere House commemorates the anniversary of Paul Revere's ride with special events throughout the week.
---
Build It! For a Greener Tomorrow - April Vacation Activities - Ecotarium, Worcester
Tue 4/21/15 - Fri 4/24/15
Free with admission
The whole family can work together on earth-friendly creations and learn how the pros adapt their designs to be green. Use your noodle in Imagination Playground, test your engineering skills in KEVA Brain Builders Challenges, bring your hard hat to the Green Construction Zone, and get inspired to create during Story Time Structures. Admission is half-price on Friday for the annual Earth Day Celebration. 
---
Contemporary Artist's Eye: April Vacation Week - ICA, Boston
Tue 4/21/15 - Thu 4/23/15
Free with adult admission; Children 17 & under always free
Kids can explore contemporary art in galleries, then design their own picture-and-word quilt or collage using mixed materials. On April 22, meet Boston artist Ekua Holmes and create art to add to her Art Lab installation, Making Place. 
---
Vacation Week Adventures - MFA - Museum of Fine Arts, Boston
Tue-Fri 4/21/15 - 4/24/15
Free with admission
During April vacation week, there are special art-making activities, performances, tours, storytelling, and more for families.
Late night Wednesday, open until 8pm.
---
Week of the Young Child - Boston Children's Museum
Mon 4/20/15 - Fri 4/24/15
Free with admission
Children experience an imagination playground with games, art, and live interactive performances during the museum's April vacation week activities. 
---
April Vacation Activities - Mary Baker Eddy Library, Boston
Tues 4/20/15 - Fri 4/24/15
Children 17 & under free        
Kids learn how they can make a meaningful difference in someone else's life while also having fun. They see how other kids have turned their own ideas into solid projects that had an impact on their communities. Staff and volunteers help kids create goodwill projects and crafts, inspired by the early life of Mary Baker Eddy. 
---
Art for April Vacation - deCordova Sculpture Park and Museum, Lincoln
Wed 4/22/15 - Fri 4/24/15
Free with admission
Explore the Sculpture Park after the long winter by looking for signs of spring, discovering more about familiar sights and sounds of the Park, and creating from/about nature. Join in any or all of the Thoreau-inspired vacation programs Wednesday through Friday, which include Nature Journaling, a Sock Walk, and Birch Bark Painting.
---
April Vacation - Wenham Museum
Mon 4/20/15 - Sun 4/26/15
Most activities included with admission
The museum is open all week (even Monday). In addition to regular exhibits, the museum is having an Earth Day celebration on Wednesday, a story illustrating activity on Friday, and sittings with a silhouette artist all weekend ($$). 
---
NATURE AND OUTDOOR PROGRAMS 
---
Junior Ranger Day on Georges Island - Boston Harbor Islands
Sat 4/18/15
$10 pp for program, plus cost of ferry (Use code JR2015 for discount at checkout)
Celebrate National Park Week with Boston Harbor Islands National Park's Junior Ranger Day. Children can meet park rangers, participate in island-themed activities, and even earn an official Junior Ranger badge. With a Civil War-era fort, spooky rooms and tunnels, and lots of space to run and play, Georges Island is the perfect destination for families ready to get outside. Junior Ranger activities are geared towards children ages 7 - 12. Reservations are strongly recommended. 
---
April School Vacation Week - Franklin Park Zoo, Boston
Mon 4/20/15 - Sun 4/24/15
Free with admission
Throughout April school vacation week, connect with wildlife and spend a memorable day with family and friends exploring Franklin Park Zoo. Special events include the opening of the Aussie Aviary for the season, the Rhino Rescue ride (for an additional cost), and the annual Party for the Planet Earth Day celebration on Friday.
---
A Wild April School Vacation Week - Stone Zoo, Stoneham
Mon 4/20 - Fri 4/24
Free with admission
Visit Stone Zoo during April school vacation week and learn more about the animals that call the zoo home. Zookeeper encounters, craft activities and a scavenger hunt take place throughout the week. At the daily zookeeper encounters, visitors will have the opportunity to meet with the zookeepers and ask questions about the animals.
---
Fairy Garden Days - Roger Williams Park, Providence
Sat 4/18/15 - Sun 4/26/15 (except Mon 4/20)
Free w/Botanical Center admission; special events $5-$25
We look forward to the Fairy Garden Days at the Roger Williams Park Botanical Center every year. Fairy houses, gnome homes and other magical dwellings can be found hidden high and low in the lush greenscape of the Botanical Center. You can also register your family for special events and workshops during the week. Make a day of it in Roger Williams Park, or if the weather isn't cooperating, round out your day with a visit to the Culinary Arts Museum or the Providence Children's Museum. 
---
Party for the Planet - Roger Williams Park Zoo, Providence
Mon 4/20/15-Fri 4/24/15
Free with zoo admission
In honor of Earth Day, Roger Williams Park Zoo hosts Party for the Planet, a full week of fun for families to share. This year's event celebrates the rich and vibrant cultures of different areas of the Zoo and the animals that live there. Each day of the week, guests explore a different region of the world, and every day from 11am-3pm, there are animal encounters with the Zoo's education wild animal ambassadors, entertainment, games, and music, as well as special "Keeper Talks" to learn more from the zoo keepers about exhibit animals in each featured region.
---
FREE WORKSHOPS & PROGRAMS FOR BOSTON KIDS
---
April Writing Workshop Series at 826 Boston - Roxbury
4/21/15 - 4/24/15
Free; application required
826 Boston is offering free writing workshops over April school break to school age kids (6 and up). This year's workshop titles include: Planet Earth, 3015; Floating Islands, Buried Cities; Improv Olympics; and When I Was Your Age. Advance registration required, and spaces fill up quickly. 
---
All Girls Sports Festival - Roxbury
Tues 4/21/15 - Fri 4/24/15
Free; application required
Girls from throughout the city are invited to spend their April school vacation at the All Girls Sports Festival, where they participate in sport clinics and health and wellness workshops. Try out a variety of sports, including basketball, tennis, Double Dutch, step dancing, track, swimming, bicycling, rugby, soccer, and an intro to rock climbing. (Participants must be Boston residents ages 11 to 14 and must apply for the program in advance.)
---
Originally published in April 2013