11 Summer Camps for Boston Kids who Love Science, Technology, Engineering, and Math (STEM)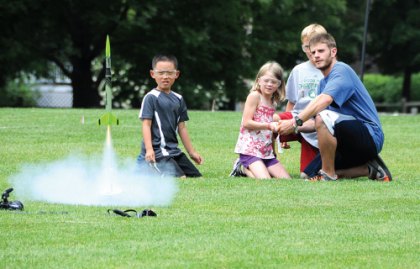 Whether your child has loved science, technology, engineering and math (STEM) since forever, or a recent visit to the Museum of Science has sparked an interest STEM, summer is a great time to dig in to those passions. Kids can experiment at home, but a STEM summer camp might be even better (for your child and for your own sanity). The options for Boston area kids are plentiful, ranging from a camp for young inventors to a free technology immersion program for teen girls. We've rounded up 10 great summer day camps where kids can tinker, make, build, code, invent, and experiment – read on to find one that's a good fit for your Junior Einstein.
---
Camp Invention
Ages: Grades 1 to 6
Local schools host the Camp Invention program and the week's hands-on activities are led by local teachers. Children rotate through four modules each day, each of which encourages working in diverse teams, engaging in investigations, experiments, and engineering challenges that combine science, technology, engineering, and math (STEM) in fun, hands-on activities.
Sessions & Location: Week-long sessions take place throughout the summer beginning in late June. Use the Location Search function on the camp's website to find a convenient location and date.
---
Empow Studios
Ages: Grades 2 through 7
If you're between 7 and 13 years old, Empow Summer Workshop is a place to make videos and animations, learn to code, make video games, build robots, and try out digital design and music. Focus on one technology of particular interest, complete mini-projects with each new technology, or combine several disciplines into one epic project. 
Empow also offers a new Minecraft Edition to supplement its traditional camp. Kids build virtual worlds while also testing game mechanics in the real world (an outdoor game of capture the flag, for example) and craft their own Minecraft gear using customized paper craft and other supplies.
Locations: Camps sessions are available in Lexington, Brookline, Belmont, Needham, Easton, Newton and Cape Code (Osterville).
---
Einstein's Workshop
Ages: Grades K -12
Einstein's Workshop summer classes teach the fundamentals, from Newtonian physics to electrical engineering to programming robots, providing a foundation for STEM fluency. There are weekly morning and afternoon summer classes during July and August. Class topics range from Paleontology to Computer Art to Robotics. You can sign your child up for morning and afternoon classes, plus extended day, to make it a full day of camp. Want to know more? Read our review of Einstein's Workshop. 
Location: 25 Adams Street, Burlington, MA 01803
---
i2 Camp
Ages: Middle School
i2 Camp is a co-ed summer day camp offering middle schoolers a broad range of fun, hands-on courses across STEM disciplines, designed to give students experiences they wouldn't get in traditional classrooms. Course offerings cover topics in Engineering, Genetics, Robotics, Nanotechnology, Ecology and Mathematics and are limited to 20 students per course. 
Location: The Roxbury Latin School, 101 St Theresa Ave., West Roxbury, MA 02132
---
The Advent School Engineering and Design Summer Program
Ages: 5-12
Dream, Design, Discover is a collaboration between The Advent School and MIT's D-Lab. The program offers hands-on experiences for children, focusing on the principles of engineering and design. There are three two-week-long sessions, each revolving around a specific theme.
Location: The Advent School, Engineering & Design Summer Program, 15 Brimmer St., Boston, MA 02108
---
STEM in the City Summer Camp
Rising 8th and 9th Graders
Home base for STEM in the City Summer Camp is the Department of Mathematics and Science on Wheelock College's Boston campus. Campers will meet at Wheelock and be introduced to a STEM topic. Daily activities then include field trips, led by STEM professionals, and hands-on activities that relate to the field experience. Campers eat lunch (included in camp tuition) at or near the site, then return to Wheelock, where they will explore a variety of careers and the educational pathways needed to attain those careers.
Location: Wheelock College, 200 Riverway, 02215 Boston, MA
---
LINX Specialty Camps - EPIC Science Camp
Ages: Grades K-8
The EPIC science program (pictured) is designed with a variety of hands-on experiments and demonstrations in Physics, Engineering, Chemistry, Biology, Electronics, and Astronomy. Each week campers use the scientific method to uncover the mysteries of the world around them. They are placed in age appropriate groups to foster friendships and to make use of advanced learning methods. Based on age, science campers spend a set number of hours studying science and have lunch, bonus periods, and swim time.
Location: LINX Camps - Main Office, 141 Linden Street, Wellesley, MA 02482 (bus transportation available)
---
GreenApple Campus
Ages: Grades K - 8
GreenApple is a nonprofit organization that offers creative and challenging STEAM (science, technology, engineering, arts and math) enrichment programs utilizing robotics, LEGO, green energy, digital media & technology, video game design, tinkering and Minecraft. Campers work independently, in small groups and on teams for different activities throughout the week.
Location: Olin College, 1000 Olin Way, Needham MA 02492
---
Emagination Computer Camps
Ages: 8-17
Emagination blends technology learning with fun activities to create a well rounded summer camp experience. Two-week sessions give campers time to make friends, build self-confidence and be part of a community while learning new technology skills. Day and overnight sessions.
Locations: Boston College - Newton Campus, 885 Centre Street, Newton Centre, MA 02459 and Boston College - Chestnut Hill Campus, 140 Commonwealth Avenue, Chestnut Hill, MA 02467
---
iD Tech Camps
Ages: 7-18
iD Tech Camps strike a balance between off-computer activities (creative games, sports, life skills, etc.) and cutting-edge technology education to foster STEM skill development. Kids can develop apps, program with C++ and Java™, design and create video games, develop websites, produce movies, build robots, and more. iD Tech Camps and iD Programming Academy are offered at MIT. A co-ed, intensive, 2-week, pre-college iD Game Design & Development Academy for teens ages 13-18 is offered at Harvard University. 
Location: MIT and Harvard University, Cambridge
---
Sally Ride Science Camps for Girls
Ages: Girls in grades 4-9
Campers choose their Science Major from marine science to engineering (grades 4-6), astronomy to marine biology (grades 7-8). The day includes experiments and instruction, as well as the opportunity for informal science learning and leadership development through workshops, experiments and recreational activities.
Location: MIT, Cambridge
---
If you're not ready to commit to a week- or summer-long camp, check out these free summer technology workshops for kids in the Boston area.
---
Photo courtesy of LINX Camps
Post originally published 4/2012 and updated 4/2013, 4/2014 by Audrey T.; Revised 1/2015 by Tara D.