Easter Egg Hunts for Kids Around Boston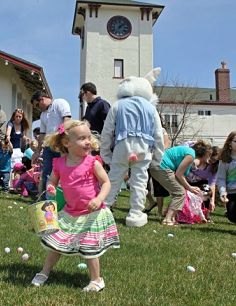 Easter Sunday 2014 is April 20, and it's time for kids in Boston to break out the Easter baskets for Easter egg hunting season! We've rounded up some options for Easter egg hunts that take place in diverse locations - in parks, on farms, at a carousel and even on a US Navy cruiser. And if we've missed any, please let us know by either sending us an email or commenting below.
And for the latest Easter Bunny sightings, please read our roundup of Where to Find the Easter Bunny in the Boston area.
Winslow Farm Easter Egg Hunt - Winslow Farm Animal Sanctuary, Norton

Saturdays & Sundays from 4/5 - 4/20
The Winslow Nature Trail holds hidden Easter treasures just waiting to be found. Be sure to look for the Easter Bunny along the path (or a kitty or two!) Adults $10; Children $5
---
Annual Spring Egg Hunt - Pope John Paul II Park, Dorchester

Saturday, 4/12
The MDC, the DCR and Phillips Candy House celebrate its annual egg hunt. There are over 10,000 eggs to find, and many special surprises.
Immediately following the hunt, the Phillips family invites kids and parents to join them at the Candy House for photos and a meet and greet with the Easter bunny. Free
---
Egg Safari Scavenger Hunt - Roger Williams Park Zoo, Providence

Sunday, 4/13
Families can pick up a Egg Scavenger Hunt Card and follow the clues to different locations around the Zoo to claim your eggs. Several golden eggs hidden around the zoo will win the finder an extra special prize. When your hunting is through turn your eggs in at one of our redemption stations and collect a goodie bag. Free with admission
---
Easter Stories and Egg Hunt - Harvard Coop, Cambridge

Saturday, 4/19
Children listen to stories about Easter and take part in an egg hunt (ages 1-6 only) with Peter Rabbit (in costume character form). Free
---
Cambridge Community Eggsstravaganza - North Point Park, Cambridge

Saturday, 4/19
The morning features games, prizes, an enormous Easter egg hunt (over 10,000 eggs!), and a whole lot of fun for the family. Free
---
Egg Hunt - Fallon Field, Roslindale Village

Saturday, 4/19
Children ages 2-6 can join the Easter Bunny to hunt for 5,000 treat-filled eggs hidden throughout Roslindale's Fallon Field (note new location for 2014). Bring a basket or bag to collect eggs.
---
Easter Egg Hunt - Bass Pro Shops, Foxborough

Saturdays and Sundays, 4/12-4/13 & 4/19-4/20
Registration begins at 1:30pm at the main entrance. Hunt starts promptly at 2pm. Find 5 eggs and return to registration for candy. Ages 2-10. Free
---
Spring Egg Hunt - Titus Sparrow Park, Boston

Saturday, 4/19
Bring your baskets, and don't be late! Neighborhood children are invited to meet the Easter Bunny and gather eggs hidden in the park. The bunny arrives at 10am. The hunt starts at 10:15am. There will be refreshments and crafts, too.
Donations of toys for the sandbox are welcome.
---
Easter Egg Dash - Paragon Carousel, Hull

Sunday, 4/20
Kids can join in on the popular Easter Egg Dash. Colored eggs full of candy are scattered all around the lawn that rings the Paragon Carousel. How may can your basket hold?
---
Amazing Eggs at the Harvard Museum of Natural History
It's not an official Easter egg hunt, but families can explore the Harvard Museum of Natural History to search out its stunning display of egg diversity - specimens of living birds that range in size from the tiny hummingbird egg to a 3.3-pound ostrich egg, up to the basketball-sized egg of the extinct Elephant Bird. (Now that was an egg that Horton could have been proud of!)
Note that all MA residents are admitted free, with ID, from 9am - 12n on Sunday mornings (HMNH is open on Easter Sunday).
Harvard Museum of Natural History

26 Oxford Street, Cambridge
---
Originally published 3/2012. Updated 3/2013, 3/2014