Pumpkin Patches for Kids and Families in Greater Boston - Where to Pick Your Own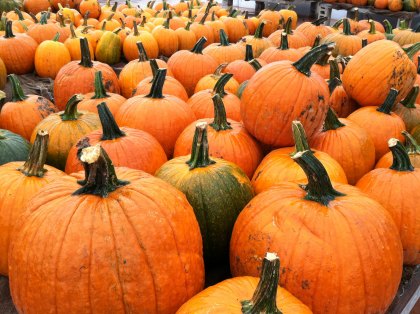 Signs of Halloween are cropping up everywhere, and it's time to start thinking about finding your perfect pumpkin. While local farm stands, farmers' markets and even grocery stores typically have a good selection, consider selecting your own straight from the field.
We've assembled a list of some of our favorite pumpkin patches. Many of these spots offer additional activities for families, like hay rides, bouncy houses and corn mazes, so you can turn your hunt into a seasonal day trip. 
Read to the end, where you'll find our family's favorite pumpkin bread recipe. Yum!
Belkin Lookout Farm
89 Pleasant St South, South Natick, MA 01760
(508)653-0653
Belkin Family Lookout Farm is one of the oldest continuously working farms in the U.S. Pick your own peaches, apples and pumpkins in the fall. Families also enjoy train rides, children's play area, picnic tables, hay pyramid, burlap maze and Busy Bee Learning Center.
---
Boston Hill Farm
Route 114, North Andover, MA 01845
(978)681-8556
Boston Hill Farm offers pick-your-own pumpkins in September and October - call for specific picking dates and times. Hayrides begin at 11am - hop on and take a ride to the field to scout out your pumpkins. The farm also features a bakery, ice cream, and a petting farm, complete with chickens, geese, bunnies, goats, sheep and calves.
---
Carver Hill Orchard
Brookside Ave, Stow, MA 01775
(978)897-6117
Kids can pick their pumpkins straight from the vines, plus visit the farm store that is stocked with crafts, decorations, fresh cider, chicken pies, fudge, peanut brittle, and cookies.
---
Connors Farm
30 Valley Road (Rt. 35), Danvers, MA 01923
(978)777-1245
Not only pumpkins, but a corn maze, too! Picking starts October 1, and the field is open everyday in October 9am-6pm.
---
Shelburne Farm
106 West Acton Rd, Stow, MA 01775
(978)897-9287
Shelburne Farm offers pumpkin picking in October; consult the website for the schedule. On weekends, Shelburne Farm offers hay rides, pony rides, a mini hay maze, and other activities perfect for young children.
---
Smolak Farm
315 South Bradford St, North Andover, MA 01845
(978) 682-6332
Spend the day choosing your perfect pumpkin, and enjoy a hay wagon ride, a playground, and a petting farm. And small children will love a ride on a kid-size Wee Wagon. Smolak Farm has festivals during the season - consult the website for a full schedule.
---
Looking for more pick-your-own farms? The Mass Department of Agricultural Resources has an interactive map where you can select your location and generate a list of farm stands, markets, pick-your-own pumpkin patches. Give it a try and let us know if you discover a new, great spot!
---
Pumpkin Bread
Yield: 2 loaves
Ingredients
3 cups sugar
1 1/8 cups oil
5 eggs
4 cups flour
1 tablespoon baking soda
1/4 teaspoon salt
1 teaspoon cinnamon
1/2 teaspoon nutmeg
3/4 teaspoon baking powder
2 1/4 cups pumpkin puree
Directions
Preheat oven to 350 degrees    
Grease 2 loaf pans (or 24 muffin tins)
Vigorously mix sugar and oil. Add eggs slowly while mixing.
In a separate bowl, sift together flour, baking soda, salt, cinnamon, nutmeg, and baking powder. Add to the sugar-and-eggs mixture.
Add in the pumpkin puree and mix thoroughly.
Divide batter into pans (or muffin tins).
Bake for approximately 55 minutes or until an inserted toothpick comes out clean. For muffins, bake 20-25 minutes.
Recipe from Fresh and Honest, by Chef Peter Davis
---
Originally published September 2011 and updated September 2012 & 2013 by Audrey Trieschman; updated September 2014 by Tara D