Best Places for Pizza and Ice Cream Near…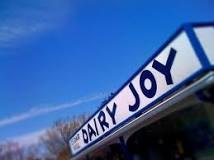 I know, I know: there are few secrets smartphones can't unlock, and it's easy enough to find some place decent to eat near basically any destination. But I also know that sometimes it's nice to have a great recommendation, the way you might if you were really on vacation somewhere. And, not having to consult your smartphone while in transit is kind of nice; it means you actually get to hang out as a family. So, here are a few pizza and ice cream recommendations for those summer weekends when you want to feel like you're on vacation close to home.
Best Pizza and Ice Cream near…
DRUMLIN FARM, WALDEN POND, OR THE DECORDOVA ART MUSEUM
Sorrento's Brick Oven Pizza, Concord, MA
This place looks so unassuming that you might skip over it by accident. Don't. In addition to having an awesome variety of wood-fired pizzas, terrific service, and even some greens on the menu, they also offer a gluten free crust. Our two year old loved watching the family photo stills on the (modest, not obtrusive) flat screen television in the corner. And the pizza is as good as any specialty place in the city. Perfect.  
58 Thoreau Street
Concord, MA
(978) 369-0938
Mon–Fri 10:30 a.m. – 8 p.m.
Sat 11 a.m. – 8 p.m.
Sun 12 noon – 8 p.m.
Dairy Joy, Weston, MA
Maybe it's because I grew up in suburban Virginia and didn't really have the clam-shack ice cream stand experience, but something about Dairy Joy makes me nostalgic for summer vacations when I was a kid. It can get crowded on busy summer weekends, but it's perfect for a soft-serve ice cream (or sundae or frappe or lime rickey) after a morning walk around Walden Pond. Plenty of outdoor seating. (Note: Yelp reviewers complain about the prices, which is why my recommendation is for ice cream, not lunch. But I wouldn't turn down a burger from there, either).
331 North Ave
Weston, MA 02493
(781) 894-2600
Mon-Thu, Sun 11 am - 7 pm
Fri-Sat. 11am-8pm
Check out Kristin's post highlighting 25 Things to Do With a Preschooler at Drumlin Farm. 
NEAR SoWA, NEWBURY STREET, OR THE BOSTON PUBLIC LIBRARY
Picco serves both pizza AND ice cream (and wine and beer), and it's one of my favorite pizza places in the area, period. Try the Alsatian pizza (bacon, crème fraiche, caramelized onions, gruyere), and share it (if you must). Their ice creams are even dreamier, and they have outdoor seating, for lovely summer days. It's a little more upscale than your average pizza joint, but it's also way above average.
513 Tremont Street
Boston, MA 02116
p (617) 927-0066
f  (617) 927-0046
Monday:
11am-10pm
Tuesday-Sunday:
11am-11pm
NEAR BLUE HILLS RESERVATION, QUINCY, DORCHESTER
If you happen to find yourself seeking shade at Blue Hills, or you feel like braving Houghton's Pond with your little one, check out Dorchester's kid-friendly Tavolo, owned and operated by Ashmont Grill's Chris Douglass. Again, not your average pizza joint, but reasonably priced and elegant in an unpretentious way. The food, which includes pastas and seafood, is great, too, which, again, makes for a nice treat.
1918 Dorchester Avenue
Dorchester MA 02124
617.822.1918
Open for dinner only, 4pm-11pm
Old school ice cream shop on Dot Ave with ice cream made on the premises, and a wide variety of flavors to boot. It's been in the neighborhood since 1976, and boasts simple, old school flavors like maple walnut and frozen pudding. Nothing against fancy creameries or virtuous yogurt places, but I like my ice cream with a scoop of soul, and this place has that.
2295 Dorchester Ave
(between Adirondack Pl & Washington St)
Dorchester, MA 02124