Drop-In Indoor Play Spaces for Boston Babies, Toddlers, and Preschoolers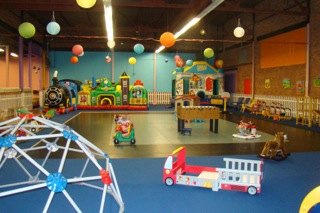 It's that time of year: The weather is increasingly wacky and predictably unpredictable. What's a parent with an energetic baby, toddler, or preschooler to do? On those days when the weather is a little iffy, head out to one of Boston's wonderful, sanity-saving indoor play spaces. We've got the skinny on some pretty great ones for the under six set.
---
Imagine: A Center for Community & the Arts
Imagine is more than a playspace. It's also a community space and place where the arts are celebrated, with a kitchen and rooms for meetings or parties. The play spaces include an imaginative play town upstairs and an indoor playground and recreation area downstairs complete with climbing structures, ball pit, swings, a bounce house, and other fun gross-motor skill-building activities. When your little one needs a little down time, visit the quiet play room for babies and toddlers, the library, or the the nursing room. Bring the bigger kids along, too. There's table tennis, foosball, building toys and activity clubs for them.There's also an outdoor playground for when the weather clears up. Best of all, Imagine is open every day of the year. 
Where: 23 Bay State Rd., 02138 Cambridge, MA 
Who: All ages (most of the play space is best for 5 and under)
Contact: 617-661-0077 or imaginecambridge@gmail.com
---
Blessedly, Kids' Fun Stop is open 7 days a week. Catch up on emails (free Wifi) while your kids work off some energy on the climbing structures, big slides, and ride-on toys. There is an art table for when your child needs some down time, and a separate baby play area for ages 2 and under. The baby play area is adjacent to the regular play area, so you can keep an eye on your tiny tot and bigger kids at the same time.
Where: 1580 VFW Parkway, West Roxbury, MA 02132. See the website for directions.
Who: Ages 6 and under (with adult)
Contact: 617-325-0800 or use the online contact form.
---
Mama & Me Creative Playspace and Open Gym
During Creative Playspace, little ones have full access to Mama & Me's wonderful main playspace, which features light tables, dramatic play areas, dress-up, puppets, and blocks. You can also take your wiggly worms to the movement studio and soft gym equipment to get their wiggles out.
Where:  Jamaica Plain Brewery Complex, 284 Amory Street, Jamaica Plain, MA, 02130
Who: Children ages 6 months - 3.5 years (with adult)
Contact:  617-477-3432 or info@mymamaandme.com
---
Children's World Indoor Playground
This new playspace has a train table, dome climber, ride-on vehicles, bikes & scooters, legos, a pretend play home and kitchen area, two bounce houses (with a slide!), an art & drawing station, a mini trampoline, and a snack area. The toddler area (under 2 only) includes a soft climber, jumper, walkers, and caterpillar tunnel. Free coffee and WiFi for the adults, too. 
Where: 465 Turnpike Street, Canton MA 02021
Who: Ages 6 months to 8 years (with adult)
Contact: 781-298-7148 or info@childrensworldplay.com
---
You and your kids can walk into Inside PlayGround (pictured in the photo above) seven days a week and enjoy the inflated bouncers, play cars, a ball pool, gym equipment, books, puzzles, LEGO, miniature furniture, dolls, dress up, light & magnet exploration, and games. There are also weekly special activities led by staff.  When you need a break, grab something from the vending machines or whip out your packed snacks and relax in the snack area. WiFi is available, and parking is free.
Where: Inside PlayGround Watertown, 100 Parker Street, Watertown, MA 02472.
Who: Ages 6 and under (with adult)
Contact: 617-923-1772 or info@insidesideplayground.com
---
You probably know Together In Motion Tumble Gym and Exercise Studio for its classes and group programs, but did you know that you can also go for drop-in open gym time? During these open hours, parents and children play with soft blocks and modules, balls of all sizes, tunnels, and parachutes – all on a padded floor. Regular drop-in play is offered for for 0 to 6 years and Tiny Tot Time is for 0 to 24 months.
Where: 1 Broadway, Arlington, MA 02474 (at the intersection of Route 16/Alewife Brook Pkwy and Broadway on the Arlington/Somerville line).
Who: Ages 6 and under (with adult)
Contact: 781-643-1377 info@togetherinmotion.com
---
Toddler Town at Marina Bay Sports Complex
Toddler Town at Marina Bay Sports Complex comes equipped with play structures for a wide range of ages and ability.  There are two large bouncy castles, a gated infant play area, tunnels, ride-on toys, blocks, mini slides, and trampolines.  Parents can engage as much or as little as they choose; the entire area is secured and blocked off so you don't have to worry about little ones running off. 
Where: Marina Bay Sports Complex, 260 Victory Road, Quincy, MA 02171
Who: Children 7 months to 6 years of age (accompanied by an adult)
Contact: toddlerstaff@marinabaysportsplex.com or 617-479-8700  
---
Got older kids with energy to burn? Our post about indoor play spaces for little kids and bigger kids in and around Boston might help. If you're looking to add some structure to your week, check out our posts about playgroups for little ones in greater Boston and groups for new moms in the Boston area.
Originally published Dec 2012; updated Jan 2015, July 2015
Photo: Inside PlayGround, Watertown