Free & Cheap Indoor Fun for Boston Kids (While You Get Your Shopping Done)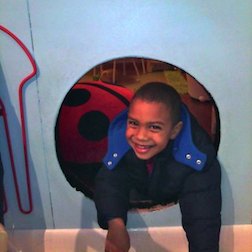 Shopping with kids (groan). It can be a drag, both for the children and the adults. But sometimes it is necessary, especially during the holidays. Some Boston stores really go out of their way to make kids and families happy, and we love 'em for it. Many offer free activities, a few have play spaces, and others are like theme parks! Check out these places to take the kids during your shopping excursions to add a little (or lot of) fun to running errands.
Want more ideas for free things to do with kids in Boston? Take a look at my posts about visiting museums for free in the city of Boston and in Cambridge, Somerville, and Brookline. 
---
Obviously, kids love to visit toy stores. Most have a train table or a hands-on Calico Critters display to play with. But two local toy store chains take it up a level: Magic Beans and Henry Bear's Park.
Magic Beans has stores in Boston, Brookline, Cambridge, Hingham and Wellesley, and every one of them except the Boston location in The Pru has a Playscape where the kids can relax and sample the store's wares. Visit the Magic Beans Stores page for location info and hours.
Henry Bear's Park has hosted free science and craft workshops (which we attended and loved) during the summer. Check Henry Bear's Store Events page for upcoming story times, live music, and other events for families.
---
At Lakeshore Learning Store in Newton, kids can make a craft for free every Saturday from 11-3. The crafts are pretty cool too: This month, they include an igloo toss game, a New Year's party hat, a festive frame ornament, and a puppet.
---
Home Depot offers free Kids Workshops the first Saturday morning of each month. Kids get to build something to take home, along with one of those orange aprons (great for pretend play), a pin, and a certificate of achievement. My kids also love to pick up paint color cards, and I recently saw a craft using them to make Christmas ornaments: DIY Paint Chip Ornaments from Say Yes to Hoboken. (It's so simple, it's genius!)
---
If you can get out to Natick, there are a couple of stores with huge kid appeal. We use them as carrots when we're making a big shopping trip:
At American Girl Place it's fun to just walk around and look at all the displays, but they also have an AG movie playing on the first floor and a Bistro and Dessert Counter on the second floor. They sometimes have free crafts and other activities on weekend afternoons – check their Special Events schedule (but make sure it says "free and open to the public", because they also have very pricey Bistro events). If you have an AG fan in the house, the unveiling of the Girl of the Year on January 1 is actually pretty cool.
Also in Natick Collection, there is a LEGO Store, which is best for visiting during weekdays, because it gets super crowded on the weekends. After looking at all the clever displays and drooling over the new kits, your junior builder can play at the LEGO table. On the first Tuesday evening of each month, they have a free LEGO build, where kids make – and keep – a small month-themed project. There are also LEGO Stores at the South Shore Plaza, North Shore Mall, and Burlington Mall.
---
For kids who fit the height requirement (37"-54") and are completely potty-trained, there is a free drop off play space called Småland in IKEA Stoughton, which has a drawing area, ball pit, and a loft with kid-friendly movies playing in a continuous loop. You should know before you go that kids will have to remove their shoes, and the ball pit seems to be open only about half the time. Even if your child is too young for Småland, the Children's IKEA area upstairs is like an indoor playground, with furniture and toys for rocking, spinning, climbing and building.  Plus, every kid I know loves to play pretend in the showrooms. If you are planning to shop at IKEA with kids, I highly recommend joining IKEA Family – you get discounts, free coffee (a true gift for us sleep-deprived parents) and extra Småland time. 
---
Jordan's Furniture stores are like theme parks. In Avon at this time of year, you can see the Enchanted Village (free, but lines can get long!), a long-lost Boston family tradition resurrected by Jordan's Furniture. Also at the Avon location, there is LITE, a 15-minute laser show ($) and a 4D, 20-minute Polar Express movie/ride ($).  In Reading and Natick, you'll find an IMAX 3D Theater, which shows first run movies ($). Jordan's Reading gets the award (from me) for having the coolest thing ever found in a furniture store: A very sweet place called Beantown, which is made up of 25 million jelly beans and features a sugary version of the Old State House and The Green Monster, a duck boat carnival game, and an ice cream shop. In Jordan's Natick, you can stroll down Bourbon Street in the French Quarter of New Orleans.
---
At Backyard Adventures in Wilbraham, kids can play on the equipment in the showroom during Pay & Play hours ($). When the weather isn't great and you're out in that area, this is a really nice option.
---
Originally published December 12, 2012; updated December 1, 2013