Make-Ahead Mother's Day Brunch - 3 Easy Recipes for Kids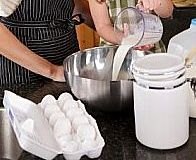 Who ever came up with the idea of breakfast in bed for Mother's Day as a special treat for mom? Both my kids love to cook, but I would never turn over my kitchen to them for them to fix a surprise meal for me (even with Dad supervising). Plus, as much as I enjoy eating together, sharing the time in the kitchen is at least as special.
This year, we've found a way to have our cake and eat it, too (see dessert!). What follows is simple Mother's Day meal kids can put together almost all by themselves. With a guiding hand from mom (or dad), kids can get almost everything prepared on Saturday, and add the finishing touches just before serving on Mother's Day. Thanks to our grandma for the inspiration!
---
The Menu
Our Mother's Day menu (scroll down to find the recipes):
---
The Plan
Friday or Saturday
Buy the groceries (see recipes for ingredients)
Saturday - prep and cooking: allow 1 hour, tops
Remove ice cream (and poundcake if frozen) from freezer
Assemble the pie (steps 1-7)
While the pie is baking, prepare the salad (steps 1-4) and dessert (steps 1-3)
There should even be enough time for the little chefs to clean up before the pie is done!
Sunday (Mother's Day)
Remove pie from fridge about 1 hour before you plan to eat
Assemble the salad (step 5)
Just before serving pie and salad, remove desserts from freezer
When you're ready, assemble the dessert (steps 4-6)
Serve with a smile!
---
The Recipes
Baked Cheese Pie (kind of a quiche without the fancy name and with the crust baked in). Serves 6
Ingredients
2 eggs
3/4 cup flour
1/2 teaspoon salt
dash pepper
1 1/3 cups milk
1 1/2 cups pre-shredded Swiss cheese
Directions
Preheat oven to 425 degrees and grease a 9-inch glass pie plate (spray oil or put vegetable oil on a paper towel to grease)
Combine eggs, flour, salt, pepper and milk in a bowl
Whisk until smooth
Stir in 3/4 cup of the cheese
Pour into the pie plate
Top with remaining cheese
Bake 30-35 minutes; remove from oven (with help)
Serve at room temperature or warmed up in microwave (about 1-2 minutes)
---
Ingredients
1 head Romaine lettuce
10 baby carrots
10 cherry tomatoes
8 ripe olives
2 oz Feta cheese
Light Greek vinaigrette (pre-bottled)
Directions
Break the lettuce off the stem and wash and dry (use a salad spinner if available or rinse the leaves, place on a clean dish towel and roll to dry)
Tear the lettuce into bite-sized pieces; place in a ziplock bag
Cut the carrots into 3 pieces each (with supervision); place in a ziplock bag
Halve the tomatoes (with supervision); place in a ziplock bag
Just before serving, dump the lettuce into a salad bowl, add the carrots, tomatoes, olives, and Feta cheese. Pour 2-3 tablespoons of dressing over the salad, and mix up with salad severs.
---
Ingredients
1 pre-made poundcake (can find in freezer section)
Vanilla ice cream
Strawberry jam
Directions
Crumble pieces of cake into individual dessert dishes, filling about 1/2 way
Add 1 medium scoop of ice cream on top
Cover each dish with plastic wrap and put in the freezer
About 15 minutes before serving, remove from freezer
Put 2 tablespoons of jam per serving in a microwavable bowl; microwave for 20 seconds at a time (may need 2 or 3 times) just until jam has melted (do not overheat)
Spoon jam over each dish and serve