Summer Camps for Boston-Area Kids: Camps in Boston, Brookline, & Cambridge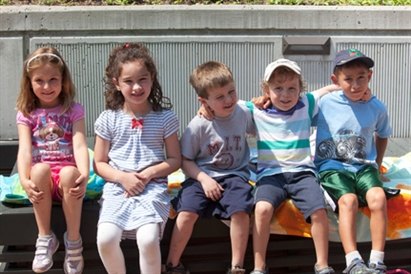 No matter what the kids are into - theater, music, arts & crafts, soccer, baseball, swimming, computers, nature - you name it, Boston has a camp for it.
January brings the delightful - yet daunting - task of deciding what to do with the kids next summer. Delightful, because just thinking about summer can take everyone's mind of the dark, cold and snowy days of winter. Daunting, because there are just so many options!
If camp is part of your family's summer plans, our Boston Summer and Vacation Camps Guide, covering everything from "traditional" day camps to specialty programs in the greater Boston area, can help make your decision of which ones to consider easier.
First up, six+ camps in Boston, Cambridge and Brookline.
- Updated March 2013
---
Brimmer & May Summer Camp
Brimmer & May offers several camp options throughout the summer covering a range of different interests. 2013 programs include:
Elementary Program - June 24 - August 16 (Ages 3 - 10) Full-Day $1,090 and Half-Day $890
Gator Goals Soccer Camp - June 17-21 and August 19-23 (Ages 4 - 12) Full-Day $475, Half-Day $275
Eco-Adventures - Jul 8-19 & Jul 22-Aug 2 (Ages 9 - 12) $1,125 per two-week session
Global Explorers - Aug 19-23 (Ages 4 - 12) $450
Photography Program - Jul 8-12 & Jul 15-19 (Ages 11-15) $525 per week
Summer STEM Institute - Jun 24-Jul 5 (Grades 7-9) $1,300
Location: Brimmer and May, Chestnut Hill
Contact: 617-278-2350; www.brimmerandmaycamp.org
---
Camp.groove, School of Groove
Camp.groove is a summer rock camp series for beginning, intermediate, and advanced students. Each student plays in a band, records a CD, perform, and attends a real rock concert (past concerts include Aerosmith, KISS, Motley Crue).
Ages: 8-18
2013 Sessions: Six one-week sessions, 6/24-8/10; Overnight Camp, 7/16-7/20
Fees: Day camp: $525-$600/week; Overnight camp $1,000
Locations: Day camp: Newton and Cambridge; overnight camp in Portsmouth NH
Contact: www.summerrockmusiccamp.com
---
Dexter and Southfield Summer Camps
The Dexter and Southfield Schools host seven camps, including two 1-week overnight programs at their Cape Cod marine science facility:
Day Camp - ages 3.5 - 12
Enrichment Camp - rising 5th - 10th graders
Marine Science Camp (Cape Cod; overnight) - rising 5th - 10th graders
Sci-Tech Camp - rising 5th - 10th graders
Sailing Camp (Cape Cod, overnight)- rising 5th - 10th graders
Tennis Camp - ages 7-14
Hockey Camp - ages 7 - 14
Sessions: The camps offer 8 weeks of program from mid-June to August (June 17 – Aug 9).
Fees: Depending on the program, prices start at $305 per week. Note: Some of the specialty programs tend to fill quickly, so it's recommended that parents make choices as soon as possible.
Location: Southfield Schools, Brookline & Cape Cod
Contact: 617-454-2725, www.dexter.org, summer@dexter.org
---
Hill House Summer Camp
Hill House Summer Camp offers Kiddie Camp (ages 3-5); Day Camp (ages 5-11); Sports Camp (ages 7-11). Camps focus on a special theme each week, and include swimming at the Charles River Park pool or Lee Memorial Wading Pool, field trips in Boston, plus sports and traditional camp games.
Sessions: Weekly, 6/17-8/21
Fees: $255 & up; scholarships available. Register online.
Location: Hill House, Mt Vernon St, Boston
Contact: http://hillhouseboston.org
---
New England Aquarium Harbor Discoveries Marine Science Camp
Harbor Discoveries is an interactive marine and environmental science program that incorporates traditional camp activities. Programs include behind–the-scenes activities in Aquarium galleries, excursions to Boston Harbor Islands, daily field trips to North and South Shore habitats, and an overnight experience. Each session includes one overnight, either camping or sleeping at the Aquarium.
Ages: Rising 4th through 9th graders
Sessions: One- and two-week sessions, July 8-August 23
Fees: 4th - 7th grades: Members $600; Non-members $650. 8th-9th grades: Members $675/1 week, $1,350/2 weeks; Non-members $725/1 week, $1,400/2 weeks
Note that these programs fill up fast, so register as soon as you know your plans!
Location:  New England Aquarium, Boston
Contact: 617-973-5206. http://www.neaq.org
---
Summer at Park & Creative Arts at Park
Summer at Park offers one- and two-week sessions in art, cooking, golf, fishing, field trips, lacrosse, leadership training, nature, science, soccer, swimming, tennis, and traditional day camp.
Creative Arts at Park is a multi-arts camp, with courses in video, visual arts, photography, dance, music, creative writing and a variety of sports.
Ages: Summer at Park ages 4-15; Creative Arts at Park ages 7-15
Sessions: Summer Arts: 1- and 2-week sessions, 6/17 to 8/16; Creative Arts: 5-week session 6/24-7/26
Fees: Summer Arts: Vary by program, beginning at $575; Creative Arts: $3,280 (5-week program)
Location: Park School, Brookline
Contact: 6170274-6024;http://summeratpark.parkschoolcommunity.net http://www5.parkschool.org/caap 
---
What are your kids' favorite camps? We'd love to hear in our Comments section below. Questions about any of these camps or about summer camps in general? Please post your question below and we will try to answer it!