5 Great Indoor Places to Have a Kid's Birthday Party in Boston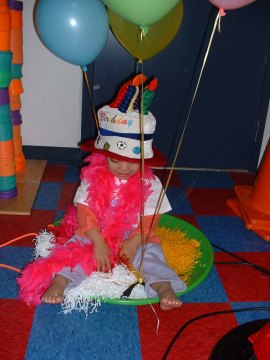 If you want to have a wonderful party for your child, but you're overwhelmed by the choices and don't have time to mine for information, I have a gift for you: Recommendations for five great indoor birthday party places in the Boston area, and everything you need to know about them.
The five places featured are different in many ways, but they all have some things in common: They have been recommended by local parents, are indoors (so you don't have to worry about the weather), minimize the amount of work you have to do, and offer parties that are super fun for kids. So read on, pick a place, and have a party your child will be talking about for a long time to come.
If your child is a ball of energy, you may want to also consider our picks for indoor parties for active kids in Boston, the North suburbs, South suburbs, and MetroWest.
---
Boston Fire Museum
The Boston Fire Museum is a gem of a place for a child's birthday party. It is located in a beautiful firehouse, built in 1891. The staff takes good care of you from the moment you walk in the door. Check out the photos and glowing reviews of birthday parties at the Boston Fire Museum on the museum's Facebook page.
What's included: Use of the entire second floor, with one large room for games and running around and a smaller room with a table that seats 16 kids. Your party guests can visit the exhibits on the first floor, sit on the 1926 fire engine, ring the bell and wind the siren. All the kids get their very own fire helmet as a gift. The museum also supplies a host/hostess to help with the party.
If you need more than two hours of party time, just ask when you are scheduling the party (though most people have found two hours to be more than adequate).
---
My Gym Boston
My nine-year-old daughter had her third birthday celebration at My Gym, and she still talks about it. She says it was her best birthday party ever, and I don't disagree. Kids love My Gym parties because they are fun – the perfect balance of structure and free play, physical activity and relaxation. Parents love My Gym parties because they have to do so little to yield so much fun.
Add-on options include a bouncy house, pizza for the adults, an extra ½ hour of party time for the last party of the day, and a donation option for those who want to make their celebration a philanthropic opportunity.
---
Jump On In Boston
Parents say a Jump On In party is the least amount of work for the greatest amount of fun. The best thing about this place? The kids are TIRED after all that jumping, sliding and climbing. If you want the scoop on Jump On In of Boston, read our review. 
---
Dance Place, Arlington
Whether your child loves dance, dressing up or rolling around on a mat, Dance Place has a birthday party celebration already planned out for you. All you do is invite the kids and bring the food – they do the rest. You get private use of both studios and the teachers lead the activities. Everyone goes home happy, with a craft they made at the party in hand.
---
Lanes & Games, Cambridge
Is there a better combination than pizza and bowling? I don't think so, especially if it's candlepin bowling, which is perfect for kids. Everything is on a smaller scale, the ball is lighter (and has no holes!) and if you ask for bumpers, everyone scores a whole lot more. There's also an arcade, which was a big hit at a recent party my son attended. At Lanes & Games, you build your party to suit, and you don't pay for more than you use. 
---