Drop-In Indoor Play Spaces: For Little Kids and Bigger Kids, Too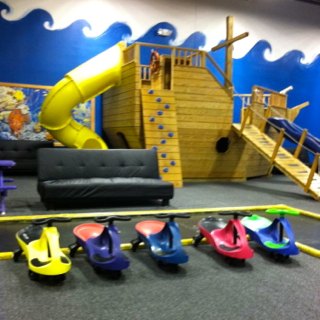 Just in time for December vacation, we've rounded up five indoor play spaces where you can take your little ones and your school-age kids, too. Most of these places are further afield, but sometimes have more space and may offer bigger thrills than ones located closer to the city and are for little tykes only. 
The Klubhouse, Woburn
Bouncy houses and obstacle courses, a ship anchored in the South Seas, a wooden lookout castle, and a fleet of plasma cars are all fun things you can expect to find at The Klubhouse. There are snacks available for purchase at the front desk, but you may also bring your own peanut-free snack.
Where: 90 Cummings Park, Woburn MA 01801
When: See Open Play page on website
Who: Lower elementary school age and younger
How much: $7-9, adults free, frequent visitor punch cards and Military discount available
Contact: 781-937-5582 (KLUB) or Info@theklubhouse.com
---
Imagination Island, Plymouth
Owned and operated by a mom and dad, Imagination Island's play space is inspired by kids, with a focus on safety and cleanliness (equipment and toys are disinfected daily).  The island-themed playscape is a multi-level, open floor plan with mazes, tunnels and slides. Your child can jump in the palm tree moonbounce, pretend in the play houses, and play with the Legos, doll house, trains, and riding cars. There is a café onsite, and no outside food is allowed in.
Where: 12 Resnik Road, Plymouth, MA 02360
When: Monday-Saturday 10 am-5 pm, Sunday 11 am-5 pm
Who: Ages 1-8
How much: $7.95-11.95 per child, see Admission page for current admission rates and frequent island hopper passes
Contact: (508) 747-7447 or web form
---
The Great Escape Playcafé, Leominster
The Great Escape Playcafé is a café and play space, where parents can enjoy a cup o' joe and uninterrupted conversation while the kids play happily on a soft playground. The play space has plenty of toys and an art and crafts area. Check the calendar for programming like educational and family-oriented events, including a drop-off camp for the holiday weekend.
Where: 21 Sack Blvd., Leominster, MA
When: Monday – Wednesday 10 am-6 pm, Thursday – Saturday 9:30 am-8 pm, closed Sunday (for birthday parties and other private events)
Who: Kids for playing, adults for relaxing
How much: $0-10
Contact: 978-227-5886 or INFO@TGEPlaycafe.com
---
Sky Zone Boston, Hyde Park
If you've never been to a trampoline park, you should give Sky Zone a try – it is seriously fun. You and your kids can literally bounce off the walls, and the kids are usually sweaty and exhausted after a jump session (hooray!). Sky Zone has a Toddler Court for the little ones, which is great because things can get wild with the big kids. If you go, be prepared with a signed waiver and let your kids know that there will be lots of rules to follow (for their own safety, of course).
Where: 91-B Sprague Street, Boston, MA 02136 (Hyde Park), additional location in Everett
When: Monday – Closed, Tuesday-Thursday 3 pm - 8 pm, Friday 12:00 pm - 11:00 pm, Saturday 10 am - 10 pm, Sunday 12 pm - 8 pm
Who: All ages, Sky Zone recommends younger jumpers (10 and under) jump earlier in the day
How much: $6-8 per half hour jump
Contact: 857-345-9693
---
Monkey Joe's, Danvers and North Attleboro
At Monkey Joe's, kids get to monkey around (heh) on inflatable slides, jumps, and obstacle courses. They have designated play areas for kids 2-12 years old, featuring jumps, slides, climbing walls, and games. There is also a Mini Monkey Zone for kids 3 and under, featuring games, puzzles, and soft landing areas.
Where: 10 Newbury St, Danvers Crossing Mall, Danvers, MA 01923 and 1360 South Washington St., Unit 1-A, North Attleboro Market Place, North Attleboro, MA 02760
When: Danvers hours/North Attleboro hours
Who: Ages 12 and under
How much: $5.99-$10.99, adults free
Contact: web form
---
Got a favorite indoor playspace to share? Leave us a comment!
Photo: The Klubhouse