Not-Very-Scary Halloween Activities for Boston Kids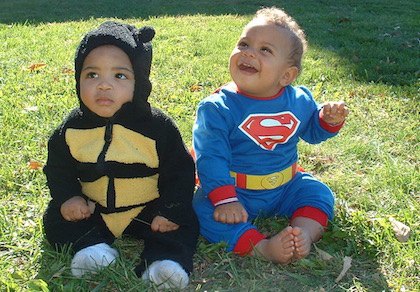 For little kids, Halloween is usually more about the treats than the tricks. The excitement is in getting dressed up, making decorations and enjoying sweet treats from neighbors—not gore, creepy stuff, or being scared silly.
For fun, not-so-scary (but maybe slightly spooky) Halloween happenings in and around Boston this month, read on. These activities are for kids and families who just want the Halloween festivities to be sweet.
---
Boo at the Zoo at Stone Zoo & Zoo Howl at Franklin Park Zoo
Stone Zoo: Sat 10/17/15 - Sun 10/18/15
Franklin Park Zoo: Sat 10/24-Sun 10/25
Included with zoo admission
Visiting the zoo each October for its Halloween event is as much of a Halloween tradition for my family as trick-or-treating. Both Stone Zoo (pictured) and Franklin Park Zoo feature Halloween-themed enrichment for the animals (our favorite part), crafts, a trick-or-treat trail, and a Haunted Maze.
---
Spooky Haymaze at Wilson Farm
Thursdays - Sundays, through 10/31/15
FREE
The haymaze at Wilson Farm is fun, free, and more silly than scary. A free apple is your prize for completing the maze, but you may also want to treat yourselves to giant caramel apples from one of the outdoor stands.
---
Wicked Weekend Workshops at Artbeat
​Weekends in October
Cost varies by project
Halloween is a great time to unleash the creative monster within! Every weekend in October, Artbeat has arts and crafts workshops with spooky themes. The projects are offered at special prices, and the final one—where you can jazz up a big trick-or-treat bag with decorations—is free.
---
Pumpkins Aglow at Edaville USA
Weekends through Fri 10/30/15
$29 per person (ages 2 and up)
Pumpkins Aglow at EdavilleUSA is back! Dress in your favorite Halloween costume and join the Costume Parade. Walk in Edaville's garden of endless jack-o-lanterns and trick-or-treat at the rides in the park. All park rides and attractions (including Dinoland) are included in admission.
---
Halloween Preschool Storytime at Gore Place
Wed 10/21/15
$10 per child and adult pair
Bring your little one in costume to a Halloween Preschool Storytime to listen to silly stories, go on a pumpkin hunt on the grounds of Gore Place, and make a monster to take home. Advance registration is required.
---
Halloween Happenings at Ipswich River Sanctuary
Fri 10/23 - Sat 10/24/15
$10 per person
At sundown, Ipswich River Wildlife Sanctuary is transformed into a magical forest. During Halloween Happenings join in on a guided walk along the Halloween trail, home to some interesting creatures that come out just for Halloween. Learn about the creatures of the night and some history and myths that surround this spooky holiday. Children and adults are encouraged to come in costume, but dress warmly! (This is mostly an outdoor event.)
---
Trick or Treat to the Beat at New School of Music
Sat 10/24/15
FREE
Don your costumes and head to New School of Music in Cambridge for Trick or Treat to the Beat, a musical Halloween celebration. During this open house you can trick-or-treat in the studios, try an instrument in the petting zoo, and belt out favorite tunes during the family sing-along. (Wouldn't it be awesome to doMJ's "Thriller"?)
---
Brick or Treat at LEGOLAND Discovery Center
Sat 10/24/15, Sun 10/25/15 & 10/31/15
Included with admission
Brick-or-Treat! Join LEGOLAND® Discovery Center Boston for some spooky fun every weekend in October. Put your building skills to the test with a Spooky Creative Challenge, find the Monster Minifigures in MINILAND, and follow the Spooktacular LEGO Pumpkin Trail through the attraction. Wear costumes for the Boo Crew Costume Contest—the best dressed of each weekend wins a prize. Buy your tickets online before you go to guarantee entry.
---
Tales of the Night at Drumlin Farm Wildlife Sanctuary
Thurs 10/29-Fri 10/30/15
$12-15 per person
Drumlin Farm becomes Halloween central during Tales of the Night. Prowl the farm with curious creatures of the night on candlelit paths and view over 100 jack-o-lanterns, creatively carved by volunteers. When the kids start turning into hungry monsters, visit the ghoulish graveyard for witch's brew, hot chocolate, and spooky snacks. Step into a story on the Nursery Rhyme Trail and visit the Creepy Critter Mansion. If your kids are up for a little more spookiness, enjoy a haunted hayride through the fields. Dress in costume if you wish, and bring a flashlight to light your way.
---
Halloween Storytime with Curious George at The World's Only Curious George Store
Fri 10/30/15
FREE
Curious George is back for Halloween Storytime with candy, costumes, and fun, spooky stories! If you haven't decided on your costume yet, join in for some quick and easy costume masks. Then share some hugs, take pictures, and enjoy treats (no tricks!) with the one and only Curious George. Everyone is encouraged to dress up. This event is perfect for children ages 2-6, but all ages are welcome. One ticket is required for each child attending.
---
Originally published October 2012; updated October 2013, 2014, 2015