Fun & Free Things to Do with Kids in and Around Boston: Revels, Velveteen Rabbit, Ice Skating and More, 12/15-16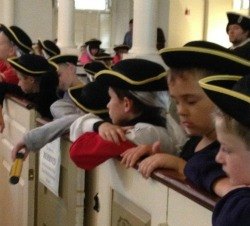 It's the second-to-last full weekend before Christmas (!), and our list of things to do in Boston to celebrate the season continues to grow, with the opening of The Christmas Revels, one of our annual favorites. This holiday tradition, Nutcracker performances, A Christmas Carol productions, visits with Santa, and last-minute gift shopping at craft fairs in the area offer plenty of options. For other holiday shopping options, we've found some stores where shopping and fun go together - with free activities, play spaces, and more.
Other picks this weekend are the opening of Boston Children's Theatre's Velveteen Rabbit and a concert with Alastair Moock, plus the opening of two outdoor skating rinks: the Kendall Square rink on Saturday and the Charles Hotel ice skating rink on Sunday For more on ice skating, read our post about outdoor skating rinks.
And if you've had enough outdoor activity, or the Boston weather is wacky and unpredictable, it's great to be able to head to one of Boston's wonderful, sanity-saving indoor play spaces. We've got the skinny on some pretty great ones for the under six set.
Read on for more of our weekend picks, and visit our Events Calendar and Winter Holidays Guide for more ideas. And be sure to enter our Biggest Holiday Giveaway - only two days left!
Enjoy!
---
A Christmas Panto: Little Red & Robin Green - Firehouse Center for the Arts, Newburyport
Opens 12/14; Fri-Sun through 12/23
Tickets: Adults $15; Students & Children $13        
Theater in the Open presents a holiday story with a twist. See what happens when a favorite holiday classic collides with the slap-stick, pun-tastic world of Panto!
---
Hansel and Gretel - The Ex, Cambridge
Thu-Sun through 1/6/13
Tickets $15        
The A.R.T. brings to life the Brothers Grimm tale of a brother, a sister, a breadcrumb trail, and a suspicious gingerbread house in the woods. Graduate acting students from the A.R.T. Institute for Advanced Theater Training star in this energetic and interactive re-telling.
---
Visit with Santa and Mrs. Claus - Harvard Coop, Cambridge
Sat 12/15
FREE
Children can tell Santa their Christmas wishes, and Mrs Claus reads stories.
---
Cookies and Carols - New School of Music, Cambridge
Sat 12/15
FREE
New School of Music hosts a winter holiday sing-a-long, a seasonal craft and a cookie potluck; be sure to bring your favorite treats to share!
---
The Velveteen Rabbit - Calderwood Pavilion at the BCA, Boston
Sat-Sun through 12/23
Tickets $25
Boston Children's Theatre presents the enchanting play adapted by Burgess Clark, features puppetry combined with live actors. Celebrating the holiday themes of hope, family and belief, and featuring original music and puppets, The Velveteen Rabbit is about the strength and power of a child's imagination.
---
Alastair Moock's Holiday Extravaganza - Coolidge Corner Theatre, Brookline
Sat 12/15
Tickets: Adults $10; Children $8        
Alastair Moock and Friends and extra special guests, The Fayerweather Street School Chorus, present a concert of original tunes and holiday favorites.
---
Holiday on Ice - @Kendall Community Ice Skating, Cambridge
Sat 12/15
FREE
Free skating admission all day, a show, and refreshments kick off the public skating season. At 2pm, Frozen Frog Productions presents an ice show that features a cast of professional skaters and performers, including former stars of Disney on Ice and Ice Capades, and US National and International medalists.
---
Ben Rudnick and Friends 11th Annual Holiday Extravaganza - Regent Theatre, Arlington
Sat 12/15
Tickets: Adults $10; Children $8
Ben Rudnick and Friends return to the Regent Theatre for their Eleventh Annual Holiday Extravaganza. Celebrating their recording It's Santa Claus!, the band will feature unique spins on everyone's favorite Christmas and Chanukah songs. An annual favorite.
---
Karen K and the Jitterbugs Concert - Barefoot Books, Concord
Sat 12/15
Cost: $8 per child ($30 family max.)        
Bug out with Karen K & the Jitterbugs, playing retro-rock for the whole family. This high-energy band will have tots and their parents dancing in the aisles with their upbeat, danceable and catchy tunes. The concert features three members of their Boston band doing songs from their upcoming album, Big Ol' Truck, and some family favorite holiday tunes to ring in 2013. Please pre-register.
---
The Old South Meeting House and the Boston Tea Party Ships & Museum join together to celebrate the anniversary of the Boston Tea Party:
Tea Party Celebration - Boston Tea Party Ships & Museum, Boston
Sun 12/16
FREE
The Boston Tea Party Ships & Museum offers free admission as it gears up for the annual reenactment of the Boston Tea Party. Then, Then meet the "real" Patriots at the Annual Re-Enactment festivities.
The 239th Anniversary Boston Tea Party Annual Reenactment - Old South Meeting House, Boston
Sun 12/16
Tickets: $12-$15
Visitors can take on the role of Patriot or Loyalist in a spirited reenactment of the Boston Tea Party. Hear from John Hancock, Francis Rotch, Joseph Warren, and Samuel Adams. Then, witness a re-enactment of the historic event. Purchase tickets in advance online or by phone.
---
Grand Opening of The Rink at The Charles Hotel - The Charles Hotel, Cambridge
Sun 12/16
FREE
The Charles Hotel celebrates the opening of its rink with complimentary ice skating and rentals (12n-6pm); a visit from Globe Santa; performances from the Harvard Figure Skating Club and Christmas Revels; and complimentary hot chocolate. Little ones can enjoy a Kids Cookie Decorating room (12n-3pm). This year's event helps support Globe Santa, The Boston Globe's annual appeal for needy children in Greater Boston.
---
Chris Van Allsburg / Polar Express Book Signing - The Book Shop of Beverly Farms
Sun 12/16
FREE
Caldecott Medal winner and local resident Chris Van Allsburg signs copies of the beloved holiday classic The Polar Express.
---
Little Red Riding Hood - First Church in Belmont, Belmont
Sun 12/16
Adults $10; Children (3-11) $5        
A children's opera in one act. Follow Little Red Riding Hood as she journeys through the forest and encounters a hungry wolf who has a strong appetite for sweets but a healthy appetite for other things... Reservations recommended.
Tags: